Emelie Kallen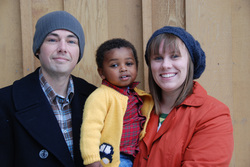 I own, operate and teach here at Illuminate. I absolutely love my work. I arrive each day eager to expand little minds and hear funny kid sayings in the process! I have been married to my hubby for 6 years. We have one little boy, Kepler, adopted from Ethiopia. He is with his Mama each day so where I am, you'll see him too! We are currently in the process to adopt a little girl, also from Ethiopia.
​
I have been working with young children in the early childhood world for 18 years. I couldn't wait until my 11th birthday because that is when I was allowed to volunteer in the church nursery! It all started there! I have been in classrooms and early childhood settings since then. I taught at a local inter-generational daycare center while in high school and also after graduating and taking Early Childhood courses at night. I was a nanny for 5 years and during this time I switched gears a little and became interested in the Montessori learning method. I earned my Montessori teaching certificate from the North American Montessori Center in Surrey, BC in 2004. I take Early Childhood classes here and there for inspiration and ideas but I pull aspects from both the Early Childhood world and the Montessori world to create the atmosphere you see at Illuminate. I started Illuminate Preschool in 2007 and it's where I'll be for a long time to come! I'm looking forward to teaching your child and getting to know your family!
---
Hilary Gosnell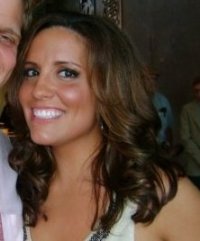 I am a teacher here at Illuminate in the morning program. My focus with the students is reading, writing and math. I also teach Spanish as well as lead the after school adventures twice a week! I grew up in the Seattle area, and attended Loyola University of Chicago for my undergraduate degree. I enrolled in a few education classes, and on the very first day of class, I knew I wanted to be a teacher! I graduated with a Bachelor's degree in elementary education, and a minor in English. After graduating, I taught in an inclusive special education pre-Kindergarten classroom in Chicago before moving back to Seattle. Upon my return, I was lead teacher in the pre-Kindergarten program at Holy Family School in West Seattle. This will be my third year at Illuminate.
​
My husband Donnie and I live in Marysville with our crazy Labrador retriever, Cubbie Bear! I love working at Illuminate, and can honestly say that I wake up every morning excited to come to school and teach! I look forward to this upcoming year!
---
Sophie Bui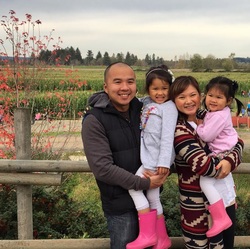 I have been working at Illuminate School since September 2011, first working as the administration then inside the classroom starting in March 2015. Currently, I joggle both the administration and teacher role where I focus on craft projects and overall maintenance of the classroom. I grew up in the greater Seattle area, graduating from the University of Washington with my bachelors in Interdisciplinary Arts and Sciences. I also have my certificate in Early Childhood Education and have previous taught as the Lead Teacher at the Edmonds Community College Center for Families.
​
My husband and I have two girls, Lucy and Stella, who are both attending Illuminate School. Loving my job is an understatement. Illuminate School has been crucial to my community ever since my oldest, Lucy, was 10 months old when she started going to work with me. I cannot imagine teaching or having my children attend anywhere else because their academic success is further propelled by the importance of building their characters and social skills. I look forward to welcoming your family into the Illuminate family!
---
Parent Testimonials
"As we were facing a pretty rough transition to pre-school with our son, I could not have expected better individual attention, empathy and intentional, thoughtful advice from Illuminate teachers. We worked together as a team, and it worked!"

"My two children have also thrived in this wonderful school. Emelie and the other teachers are the perfect balance of warm, kind, inviting, fun, educationally focused and structured. My children (3.5 and 5 yrs) have very different personalities, and both are not only loving it, but excelling. Emelie really takes the time to KNOW her students; I mean really know them. She often provides very specific feedback on what they are doing academically, as well as socially." ---Kenna

"Our family feels so fortunate to happen upon Illuminate a few years ago. Illuminate is a Montessori school but with a nice lighthearted touch. We have both our 5 year old daughter and 3 year old son there and we feel we really couldn't ask for a better school. Every single day, the kids can't wait to go to school, and they are always sad to leave.

The teachers are fun and easygoing and yet are always on top of it. They really get to know each child. They are also great on communication with parents. Ms. Emelie routinely sends email updates as to what's going on in the classroom and how our children are doing individually. It's also easy to have spontaneous conversations with her about how the kids are doing. She has a terrific sense of humor about things, which is refreshing!

Last, many schools these days advertise diversity, but aren't very diverse at all. Illuminate for some reason draws families from very diverse backgrounds and ethnicities. The range of kids' backgrounds at Illuminate seems way more diverse than the north end of Seattle as a whole!"