A little about our school...
Located at 914 East Miller St Seattle Washington 98102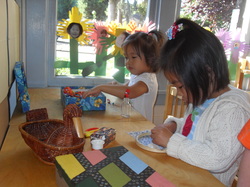 Thank you for your interest in Illuminate School! Our school offers healthy cognitive enrichment as well as positive social interaction with a focus on community.
We are an enriched Montessori preschool for children ages 3-5 years.
The classroom focuses on individually-paced learning and development. The goal is to help each child enhance their joy of learning and sense of pride in their accomplishments.
While we value the
Montessori Method
of learning and have integrated it into our school, we also incorporate other beneficial aspects of more recently developed early childhood education into our curriculum. We believe that foundational learning skills and habits are vital, as well as celebrating the wonder of being a preschooler, and all that it entails!
Children must be potty trained before they can enroll. This educational program continues through the years your child attends and builds upon previously learned concepts. Each child will be given individual and group lessons in writing, math, geography, sensorial experiences, and practical life. We also incorporate yoga, Spanish, music, art, small group projects, monthly themes and a letter of the week.
Your child's day will consist of individual as well as group activities. Their individual work will be monitored by the teacher who observes and recognizes each child's progress, and will give new lessons that further your child's understanding of the world around them. This process is done at your child's own pace.
Group time will occur once or twice a day. The sense of community in the classroom is accentuated during this time. We discuss how to care for each other, and be sensitive to each others needs. We do the calendar, weather report, job chart and stories. Music is celebrated, new classroom materials are introduced, sharing is promoted, and classroom news is discussed as a class at group time.
Illuminate School is a program that offers a terrific academic program, but acknowledges the wonderful benefits that additional activities can bring to the classroom. We look forward to talking to you about your child, and whether our school would be a good fit for your family!
---